Main content starts here, tab to start navigating
OUR STORY…HISTORY IN THE MAKING
EXCEEDING EXPECTATIONS SINCE 2009
Where it all started.
In 2009, Tom and Lori Hartz partnered with Young Cho to create a restaurant for the community and by the community–a place where folks could eat food that was grown, prepared, and served by people in their own backyard.
Simple Café opened its doors in the middle of winter 2009; located off Main Street and in an economy that was still suffering from the Financial Crisis of 2007. There was no secret sauce or magic equation; just a nurse, a retired architect, and a 30-year veteran chef with dreams of changing the world one bite at a time. On December 16, 2009 Simple Café welcomed 70 customers, and it has been exceeding expectations ever since. What started out as a modest café has now grown into a movement of change that's fueled by our very own community. Today Simple Food Group consists of a café and a bakery and will soon be planting its roots even deeper in the community. There's no secret sauce or magic equation, just people sharing meals, coming together to change the world one bite at a time.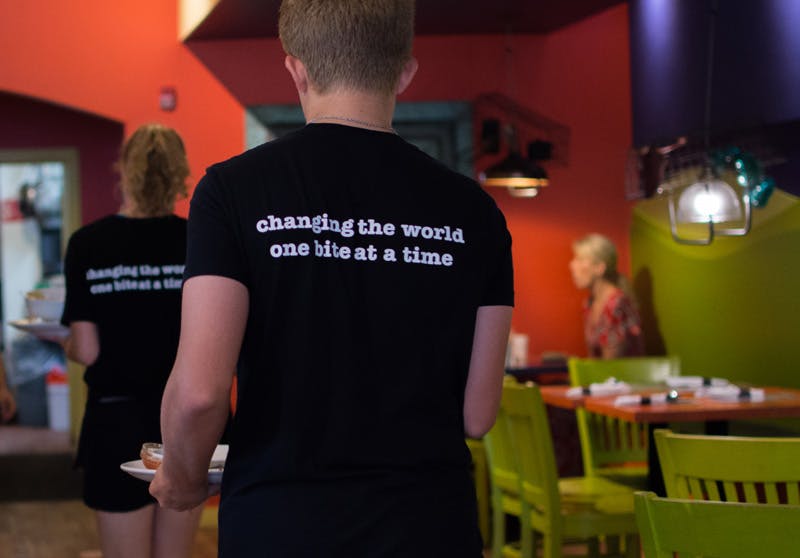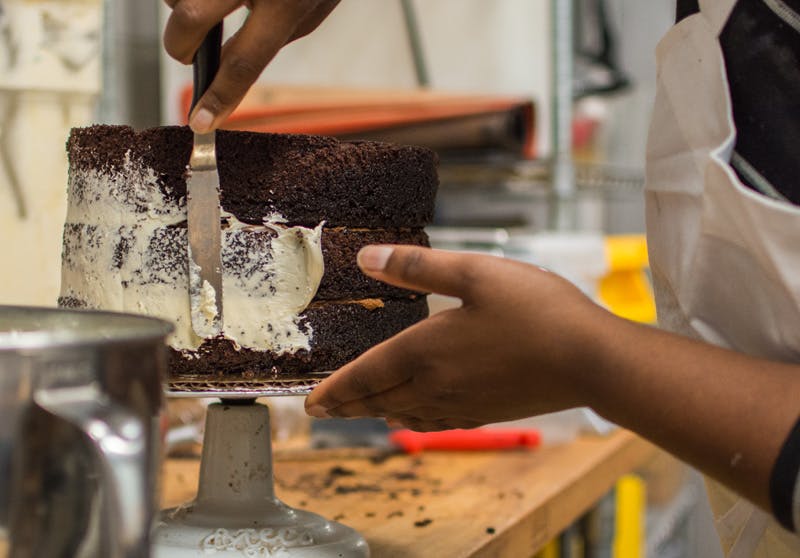 How Did We Get Here?
1920 (Approximately): a coal storage building was constructed at 525 Broad Street in Lake Geneva next to the railroad tracks. Later when the concrete block building was converted to a Napa Auto Parts Store, an addition was built in the 1960's.
2009: Lori and Tom Hartz read Barbara Kingsolver's beautiful book Animal, Vegetable, Miracle. Over dinner one night, they decide that Lake Geneva could use a restaurant cooking with ingredients grown and raised by farmers they would know.
2009-April: Tom and Lori purchased the vacant Napa Auto Parts Store at 525 Broad Street.
2009-December: Located at the wrong end of town in an economy in shambles from the 2007 Financial Crisis, Simple Cafe opens doors for the first time. With their partner Young Cho's menu and a brand new staff, the kitchen starts cooking great food. These three partners; a nurse, a retired architect, and a 30 year veteran chef welcomed almost 70 customers the first day.
2010: Simple Café hosted its first of many fundraisers for local organizations who support our community. Side by Side, a group of volunteers who stood side by side with those in need so they did not have to stand alone, held a fundraising dinner at Simple Café. It was a community party that benefitted many.
2011-November: Young and Tom opened the Sweet House of Madness Bakery in the 1960's addition to the Napa Auto Parts building. Until that time, Simple Cafe had been buying its bread from two bakers using the old Nakomis Bakery in East Troy until the principal baker decided to give up the baking game and go to law school. Now, besides the smell of bacon and eggs, the oven exhaust coming out of the building iss decidedly sweeter.
2012-July: A space in the building known to Young and Tom as the Crank Daddy's Bicycle Works Building in Milwaukee became available. Located on Milwaukee's trendy East Side, the location seemed a perfect location for a second Simple Cafe.
2012-December: Andy Spitson, our first customer in Simple Café in Lake Geneva walked in the Simple Café Milwaukee door at 2024 N. Farwell. It somehow seemed fitting that the space was previously occupied by a car wash, thus continuing the auto theme of the newly minted Simple Food Group.
2016: We officially changed the name of the Sweet House of Madness to the Simple Bakery and Market. Customers had been calling it that name for years and we finally caught up.
2018: We developed and compiled our Vision 2025. In this document we defined in detail what success looks like for our company in 2025. We have chosen the future we want. The Vision outlines great food and service, our company culture, numbers of businesses we will own, our mission and guiding principles. This document aligns us.
2019: We finally answered yes. For nearly 8½ years our customers asked if we could cater their special events outside our building and we had replied no thank you. We now help celebrate birthdays, weddings, graduations, new jobs, great performances, meeting challenges, and everything else.
2020: The Simple Bakery and Market wins the Best Croissant in the 2020 Le Croissant Challenge.
2021-June: We sadly closed Simple Café Milwaukee. We chose to invest in our local community and focus our energy and resources into a community we know well.
In the near Future we will be opening Simply Training. The 7th Natural Law of Building a Great Business is "Successful businesses do the things that others talk about doing . . . but generally don't." Training fell into this category for us. We know we want to train better but don't always get around to it. That has changed. Simply Training will make this happen for everyone.
CHANGE THE WORLD ONE BITE AT A TIME
Each egg, each slice of bread, and each piece of fruit carries a story.
It's simple: we want to change the world one bite at a time. We know change happens when we connect people to people. And that's what we do every day at Simple Food Group.
From our farmers and artisans, to our staff and partners, to our customers, everyone has a story. When our stories become connected, it changes how we work, how we eat, and how we live.
Each egg, each slice of bread, and each piece of fruit carries a story. Lynn delivers her eggs each week in her pick-up truck, often with her young granddaughter riding alongside. Our bakers make bread from scratch daily, using a starter that is now over three years old. We pick up some fresh fruits and vegetables from the Sweet Corn Lady, her daughter, and her granddaughters in the Delavan inlet. Then there's Theresa who works the stand during harvest season and is employed as a tax accountant in the dormant season. It's because of these people–and their diverse stories–that we are able to produce the freshest meals possible in southeastern Wisconsin.